Swazy Styles Does The "Harlem Shake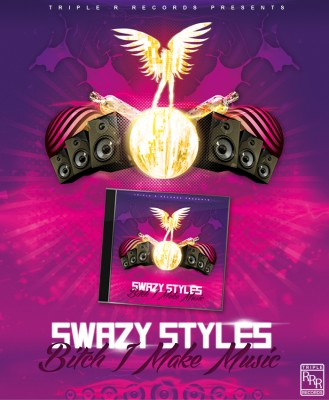 SWAZY STYLES DOES THE "HARLEM SHAKE"
With only a couple of days from Swazy Styles' anticipated mixtape release, "Bitch I Make Music", via Triple R Records, the Miami Hip-Hop hipster releases his version of the chart-topping and worldwide viral smash hit "Harlem Shake".
"The song 'Harlem Shake' set the music world on fire so I decided to present my own remix version to my fans and the urban community," the New York born artist explained.
"Harlem Shake" along with the mixtape's previous single releases, "Standin On Couches" (11,500 SoundCloud plays), "Bugatti" (2,500 SoundCloud plays), and "Move & Shake" (2,300 SoundCloud plays), is featured on Swazy Styles' dance heavy and electrifying mixtape, "Bitch I Make Music", which will be released on Friday, May 10.
DOWNLOAD NOW: "Harlem Shake" by Swazy Styles
www.soundcloud.com/yopromotions/swazy-styles-harlem-shake
"Bitch I Make Music" is hosted by Pitbull's official deejay, DJ Epps, and official Stanton deejay, DJ Ballistic Billy. The Miami artist is rocking every club in the world with his crazy and buzzing party anthems such as "Birthday Suit" (2010), "Like This" (2011), Party Bus" (2012), and with his latest offering, "Standin On Couches" (2013).
Known for his banging beats, crazy wordplay, and extraordinaire delivery, Swazy Styles is sure to deliver nothing but electrifying, funky, and blazing music on "Bitch I Make Music" so watch out for this soon to be released project!
CONNECT WITH SWAZY STYLES
Website: www.swazystyles.com 
Facebook: www.facebook.com/swazystyles
Twitter: www.twitter.com/swazystyles 
YouTube: www.youtube.com/swazystyles