MIAMI ARTIST SWAZY STYLES DROPS "BITCH I MAKE MUSIC"
MIAMI ARTIST SWAZY STYLES DROPS "BITCH I MAKE MUSIC"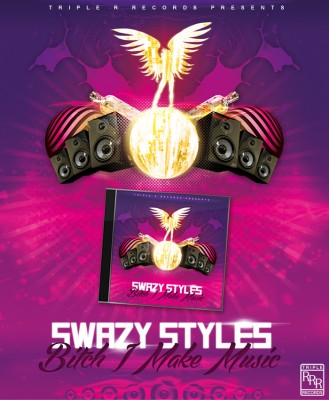 FOR IMMEDIATE RELEASE // Miami based record label Triple R Records and its leading rapper Swazy Styles are excited to release the anticipated and critically acclaimed mixtape, "Bitch I Make Music", which is the perfect soundtrack to this year's summer, full of amazing and electrifying club and party anthems. Swazy Styles' brand new mixtape is hosted by Pitbull's official deejay, DJ Epps, and official Stanton deejay, DJ Ballistic Billy.
After celebrating Memorial Day with Omarion at Club Mekka in Miami, much buzzing southern rapper Swazy Styles is more hip than ever with his innovative and banging sound and style, making him one of the most sought after artists in the southern hemisphere.
Download "Bitch I Make Music" now for free and witness why Swazy Styles is the artist to watch out for in the urban music landscape!
DOWNLOAD NOW: "Bitch I Make Music" by Swazy Styles
http://www.datpiff.com/Swazy-Styles-Bitch-I-Make-Music-mixtape.503132.html
TRACKLISTING: "Bitch I Make Music" by Swazy Styles
1. Started From The Bottom (Remix) – Drake ft. Swazy Styles
2. Fuckin Problems (Remix) – 2Chainz ft. Drake & Swazy Styles
3. So Faded (Remix) – Tyga ft. Swazy Styles
4. Karate Chop (Remix) – Future ft. Swazy Styles
5. Harlem Shake (Remix) / Swazy Styles
6. Numb – Swazy Styles ft. TnS
7. Young N Gettin It (Remix) – Meek Mill ft. Swazy Styles
8. Scream n Shake (Remix) –  Swazy Styles
9. My Other Chick –  Swazy Styles ft. Nick Noble
10. Pour It Up (Remix) –  Rihanna ft. Swazy Styles
11. Sueno – Swazy Styles
12. Standin On Couches (DubStep Remix) – Swazy Styles
13. Bugatti (Remix) – Ace Hood ft. Swazy Styles & Future
14. Poetic Justice (Remix) – Kendrick Lamar ft. Swazy Styles
15. Columbia (Remix) – Swazy Styles
16. Party Bus – Swazy Styles
17. Birthday Suit –  Swazy Styles ft. DJ Epps & Lil Jon
18. Party Girl –  Swazy Styles
19. Standin On Couches (Radio) – Swazy Styles
CONNECT WITH SWAZY STYLES
Website: www.swazystyles.com 
Facebook: www.facebook.com/swazystyles
Twitter: www.twitter.com/swazystyles 
YouTube: www.youtube.com/swazystyles